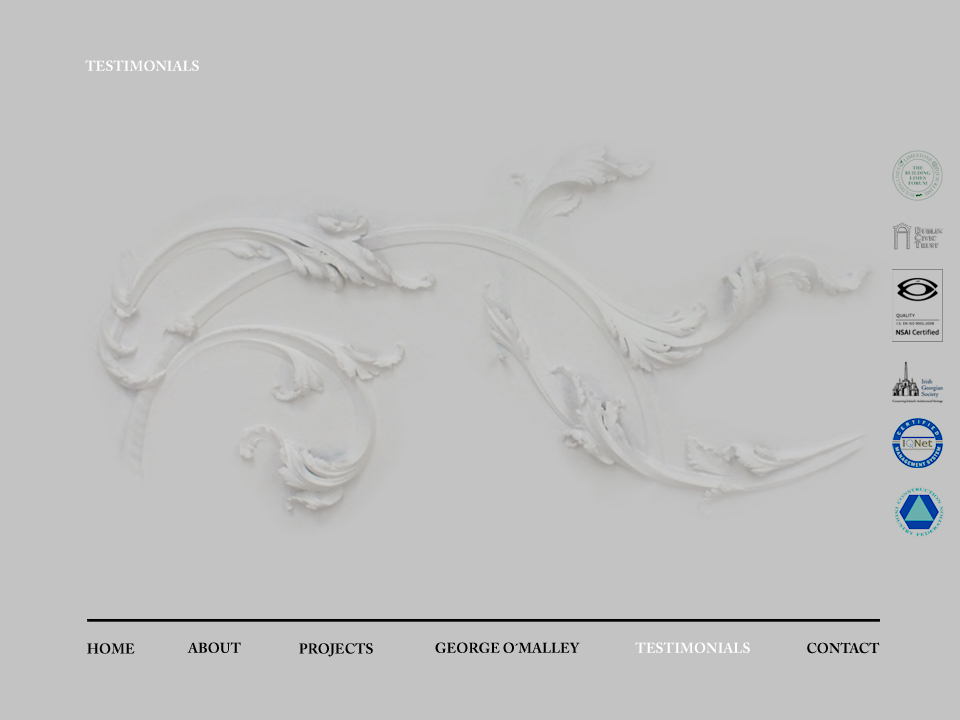 George O'Malley is a master craftsman of the highest order. I have worked with George and his well trained operatives for many years on all classes of projects from the mundane to the extremely complex work in re-constructing the highly decorative plasterwork at St. Mel's Cathedral in Longford following a devastating fire which destroyed 80% of the original building fabric in 2009. No matter how small or how complex, George is a pleasure to work with, his organisation, staff and equipment is always of the highest egree and George O'Malley Plastering delivers a top class service always on time.
I have no reservations whatsoever in recommending George O'Malley Plastering on any of our projects from straight wall plastering to the highest element of decorative plaster work. Carrig are lucky to work on some amazing projects but we are equally lucky to have such original craft skills available in the likes of George O'Malley Plastering.
Peter Cox | Managing Director | CARRIG Building Fabric Consultants | Web: www.carrig.ie
---
I have worked with George O'Malley on historic plaster and new external lime render on various important Protected Structures for the last twelve years. His knowledge of specification and craft techniques in the lime render area is unequalled in my experience as a senior conservation architect. He has never failed to achieve the highest standard of finished work, whether in the repair of an eighteeeth century rococo ceiling, or removal of cement render and appropriate replacement with lime. He is fully cognisant of the demands of large and small scale projects both in programming and resources and fully reliable as to both.
Ann Cuffe Fitzgerald | Associate | Architect B.Arch. MBUC. MRIAI (Cons Accred I)
---
George and his team are a pleasure to work with as well as providing a high level of expertise and skill the team worked cooperatively with the house staff in a public building
Fionnuala May, Fingal County Council | August 2016
---
Very professional efficient and knowledgable, worked very hard and delivered all works to an extreemly high standard above the norm on time and on budget.
Ray Mooney, Hibernian Club, St. Stephens Green | August 2016
---